Thread now half-back up and running. Currently building up my stock of RNG'd pokemon, starting with a Mienfoo.
Mods: I just noticed the new rule to have all cloning methods listed (been off for a long time), so I will update this thread shortly.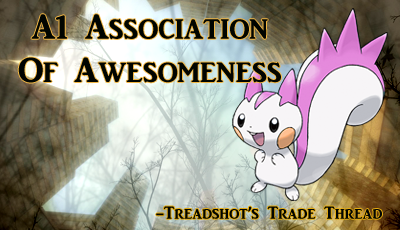 Banner by Saeglopur (or however you spell it)​
Our New Mascot!
M.E.P.
(Mono.Electric.Pachirisu.)
-----------------------------------------------------------------------
Ciao a tutti!​
Firstly, thanks for visiting my very first Trade Thread. For those who don't know me, i'm just your average high-school student with a penchant for having more crap than i could ever need or use.​
Secondly, i'm starting off small. Being stuck at school every day means that i have had no time to learn to RNG abuse, nor the time to chain Shinies and the like. So, all pokemon i offer are bred by me on my Diamond and HGSS games the old fashioned way: Riding the Bicycle up and down Solaceon Town. For this reason, i'm kind of limited to the pokemon i have available, but i do my best to provide the best i have.​
The A1 Association is a select group of Pokemon bred or caught by Treadshot A1. Only the best Pokemon are ever allowed here, and even then, they must undergo rigorous training, before they even dream of entering the battlefield. The Association exists solely for the protection of Treadshot A1, and each and every Pokemon is expected to fight for this cause, till their last Hit Point. There are no exceptions. Should a Pokemon die in battle, our resident Ditto, Ersatz, replenishes our forces quickly.
​
1. No Hacks. Duh. I know how to Pokesav myself, i don't need someone else to do it for me. I spent time breeding these Pokemon, i expect the same.
2. I'm a school student. That means that between tests, assignments and real life, I am sometimes busy. Please be patient and respectful, to me and everyone else here.
3. I don't trade with ICBB or Blacklisted people. I'm sorry, but i just can't take that risk as of now.
4. I trade with anybody who doesn't fall into Rules 1 & 3. That means i don't care if you have a trade thread or not, the Association is open to trading.
5. My pokemon have their redis rights listed in their profiles. For those that are Semi redis, just make sure in your thread you call it "A1's _____". However, if they are redistributable, that's on Smogon and Smogon alone. No other boards without my permission.
6. In game, i am Robin, my SoulSilver FC: 2665 4917 5442.​
Other Stuff you should know:​
1. I use pokesav. For the purposes of this thread, I do not use this to alter my pokemon in any way, they are as the game created them.
2. Asians are awesome. This is not negotiable.
3. I use M3DS Real. The flash cart. I use this so that i can then access pokesav, and from there, clone. The only things i use this cart and pokesav for are the following:
a) IV checking
b) EV Checking
c) Cloning
That's it. I do not alter pokemon i intend to trade in any way.
4. Nicknames! If your pokemon have them, great! I like good nicknames. Just no inappropriate ones. In the same vein, i will not change the nicknames of these pokemon for you. Sorry, but that's final.
5. Studio Italiano. I study Italian at school, and like to use it wherever possible to improve my skills, it sometimes makes me more inclined to trade pokemon as well. Don't worry, good old English is just fine, though.​
Credits:​
1 UT pokemon = 1 credit
1 EV'd pokemon = 2 credits
1 Redis Pokemon = 1 credit​
This goes for all tiers. Any exceptions will be marked.​
Zack = 2 credits (for Strophe BP)
Shining Kestral = 2 Credit (for Shard BP, and figuring out why it's called Strophe)
Lux = 5 credits (for Clysm, Pallone and Squash BPs)
Rocket Boss Giovanni = 2 credits (for iZor BP)
Umbreon91 = 3 credits + one CMT (CMT used, credits still available)
Buckert = 1 credit (to be used for Ace's Ralts)
Saeglopur = 4 Credits (for Banners)
​
Whitelist:
Shining Kestral: She gave me Ersatz the Ditto, from which these pokemon were bred.
acetrainerzx: Free Shiny Timid, WoW, HP Ice Ralts? Yes please.
Graylist (i.e. Nice "on Probation" users)
SCDL
Blacklist:
Smogon Blacklist
Any and all ICBB users
MattJ's Wifidiots
Note: If you're on Probation and not on the Graylist, you can ask here, but i'll judge on a case by case basis.
Looking for someone who can make me a Banner for each of the Tiers, and the banner for the title. I'm an avid Gundam fan, so anyone who can create such banners please contact me. Payment i haven't decided yet, though feel free to discuss with me.
My MattJ's Rayquaza for Tanaka's Despotar's Lucario
My MattJ's Rayquaza for Beelzebub's (OT: Trellis) Yanma
My (Junk) vs Shining Kestral's Amethyst
My (1 credit) vs Shining Kestral's Shard
My BluCookies vs Muffinhead's Dialga
My MattJ's Rayquaza vs Icemanu's Scyther
Me (BluCookies and BadIntent) vs Reptar (Horsea and Vaporeon)
Me (Find SID) vs Neotype (Ditto and 10th Anniv. Suicune)
Me (Amethyst) vs Saeglopur (Nepthys and Xiphos)
Me (Clysm) vs Religiousjedi (CC the Cloyster)
​
Me (Snowball, Luke, Scorso) vs Zachmac (Togepi, Female Aron)
​
Me (Trellis Yanma) vs Hungary (Agiligross)
Me (MattJ's Suicune) vs Canelo (MattJ's Latios)
​
Coming Soon:
​

​